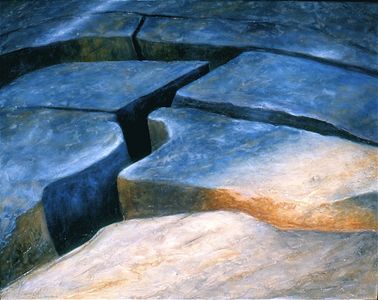 After growing up in Hudson Heights, Quebec, I first studied painting, drawing and typography at York University in Toronto. This led to a job at Coach House Press for a time, followed by a move to Windsor, Ontario, where I began a long career as a professional social worker.
In 1979, I moved to Montreal and continued to make art while working and raising a family.
Since 1998, my work has focused on interpreting overlooked or empty spaces that exist within natural phenomena such as caves, rock and ice formations, and man-made structures such as abandoned mines and tunnels.
At first glance, these spaces may appear empty, but I perceive them as having content: fragments of memories, traces of lives and ideas, mysteries, and an atmosphere of eerie stasis.
To me, the underground universe is threatening and enticing at the same time. It represents risks, an exploration of the unknown, and wonder. Lately I have been exploring the dimension of depth in a series of underwater paintings.
The main inspiration for my paintings comes from photos I take while caving and travelling. I use oils, resins, plaster and wax, building up multi-layered textured surfaces that mimic nature.
My main artistic concerns are illusion, ambiguity of scale, texture, the juxtaposition of light and dark masses, the dimension of depth, and the combination of figurative and abstract elements in the same composition.
My artworks may be found in public and private collections across Canada, and in Japan, Australia, New Zealand and the U.S.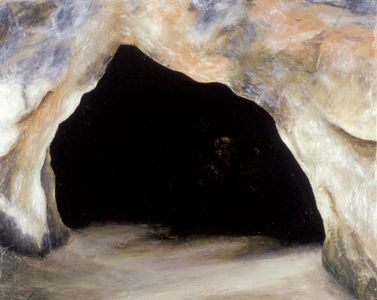 Après avoir grandi à Hudson Heights, Québec, j'ai pris des cours de dessin, peinture et typographie à l'Université York à Toronto. Ceci m'a amenée à travailler au Coach House Press pendant un certain temps puis, suite à un déménagement à Windsor, Ontario, j'ai débuté une longue carrière comme travailleuse sociale professionnelle.
En 1979, j'ai déménagé à Montréal, où j'ai continué à faire de l'art tout en travaillant et en élevant une famille.
Depuis 1998, j'interprète des espaces vides et souvent négligés qui existent à l'intérieur des phénomènes naturels tels les cavernes, les formations rocheuses, les accumulations de glace de même que dans les structures bâties par l'homme, comme les mines désaffectées et les tunnels.
À première vue, ces espaces peuvent sembler vides mais je les perçois comme possédant un contenu: fragments de souvenirs, empreintes de vie, d'idées, de mystères dans une ambiance de stase fantomatique.
Pour moi, l'environnement souterrain est à la fois menaçant et attrayant. Il représente des risques, une exploration de l'inconnu et du merveilleux. Actuellement, j'explore la dimension de la profondeur dans une série de peintures du monde sous-marin.
Pour réaliser mes tableaux, je m'inspire de photos prises lors de voyages ou d'expéditions de spéléologie. Je superpose plusieurs couches soit des peintures à l'huile, de la résine, du plâtre et même de l'encaustique afin de créer un effet imitant le plus fidèlement possible la nature.
Ma recherche artistique porte sur illusion, la juxtaposition de masses claires et sombres, la dimension de la profondeur, l'ambiguïté d'échelle, ainsi que la combinaison d'éléments figuratifs et abstraits dans une même composition.
Mes oeuvres se retrouvent dans des collections publiques et privées au Canada, au Japon, en Australie, en Nouvelle-Zélande et aux États-Unis.